陸上競技部の短距離チームに所属している上野日花里さん(外国語学部 英語英文学科3年)は、駅伝チームのメンバーの努力を広めたい、留学生に向けて駅伝の文化を伝えたいと考え、「第49回全日本大学駅伝対校選手権大会」での活躍について英語翻訳の文章を作成しました。なお、上野さんは英語英文学科主催の2017年度の英語スピーチコンテストで2位の成績を収めています。
Hikari Ueno, a third year English major at Kanagawa University and a sprinter in the university's Track and Field Club, translated an article on the 49th Prince Chichibu's Cup All-Japan Intercollegiate Ekiden on Kanagawa University Ekiden team, hoping to let students from other parts of the world know the great efforts made by the Ekiden team members and to share her enthusiasm for Ekiden as an aspect of Japanese culture. Hikari is also the Second Prize winner in 2017 Kanagawa University English Speech Contest organized by the Department of English.
Come-from-Behind to Win the Race at Last
Kanagawa University (Jindai for short) won the All Japan University Road-Race1 (called Zennnihon Ekiden) because all its runners ran stably. After Jindai got ahead of major rival Tokai University2, in the last Section 8, Jindai won the match for the third time. Mr. Daigo, who is the supervisor in Jindai, said with a smile on his face, "It was important how we contended the races from Section 1 to 7. They did their best." (In fact, Zennihon consists of 8 runners, but he means that he had the confidence to win the race after a successful run to Section 8, where Jindai's ace and world-class athlete Suzuki waited.)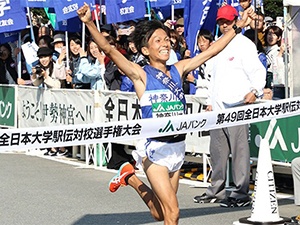 Photo by Kanagawa University
The champion team was never in a hurry even though they had to chase the lead from the beginning of the race.
During Section 5, Koshikawa, who got the 5 Section prize3, raised the ranking from 4th to 2nd. After this section, the rest of teammates brought the tasuki (a fabric relay baton used in ekiden) to Section 8, and from then, the time difference was 17 seconds between Jindai and Tokai, who was leading then.
"I was so excited," Suzuki said. "I thought I should just focus on my run at my pace." He took the lead after 3 km, and made more distances without pacing down from following runners calmly.
The Jindai Ekiden team's captain Suzuki won the Japanese Student Half-Marathon Championship4 this March with a new game record of 1 hour 1 minute 36 seconds. He also got 3rd place at the Universiade5 this August, and so he had enough potential to pass the Tokai team.
Kanagawa University didn't even quality for the preliminary to enter the race last year. However, this changed their attitude toward training completely and led to this year's unexpected win. When they won the Zennihon for two consecutive years in 1996 and 1997, Jindai also won the Hakone Ekiden both those years. Aiming for a victory at Hakone, Suzuki said, "We do hard training, and want to challenge other strong teams."
1 The race began in 1970, and it decides the No.1 University Ekiden team in Japan. Runners take turns to run 8 sections. Also it is the one of "sandai Ekiden," the three major Ekiden races, including Izumo, and Hakone. Every Ekiden runner aims to win those three Ekidens.
2 The Tokai university team won the Izumo Ekiden and has runners with good record.
3 The fastest person in each section gets this prize.
4 About 1,500 students compete in this one, and it also serves as a selection process for the Universiade.
5 It is an international competition for students aged 17 to 28, who are university or graduate students or graduated from those schools 1 year before the competition year.
※This article was written based on the news story appeared in Kanagawa Shimbun on November 6, 2017.